Piece by piece Convivial Ground invites the reader to discover the work of the transdisciplinary European design-build network Constructlab. Taking Ivan Illich's understanding of conviviality as a departure point, the essays, conversations, stories, and images in the book reflect on the specificities of collaborative practices as situated experiments, and on their possible roles in the creation of convivial societies. Exploring contemporary conditions of togetherness, learning, and working, the book is not a "how-to" guide, but an invitation to write new convivial narratives cooperatively.
From "How Together" to "Convivial Ground"
Upon the invitation of the Chicago Architecture Biennial in 2019, Constructlab started a collective reflective exercise that ended up published as "How Together". To compensate for the absence of the network onsite through the exhibition, they then decided to follow up and extend what they initiated to other fields. Looking at Togetherness through the lens of conviviality, exploring daily life within and around different projects, Convivial Ground follows up the narrative experience and explores modes of learning and working within Constructlab's practices. The book proposes to open up cross-disciplinary debates on the necessary conditions for the existence of sustainable impactful collaborative projects and practices. Published with the renowned architecture publisher Jovis.
One book: many ways and voices to tell many stories at once
There are many possible narratives to approach Constructlab projects. The network always tries hard to generate inclusive projects that speak to all, from the youngest kids to the oldest ones, from any social, educational or cultural background. The book is no exception. Therefore, Constructlab thought of bringing their stories in different forms and formats. Within the pages of the book, you will find theoretical essays, interviews, conversations but also short narrative stories, drawings and images organized thematically or typologically.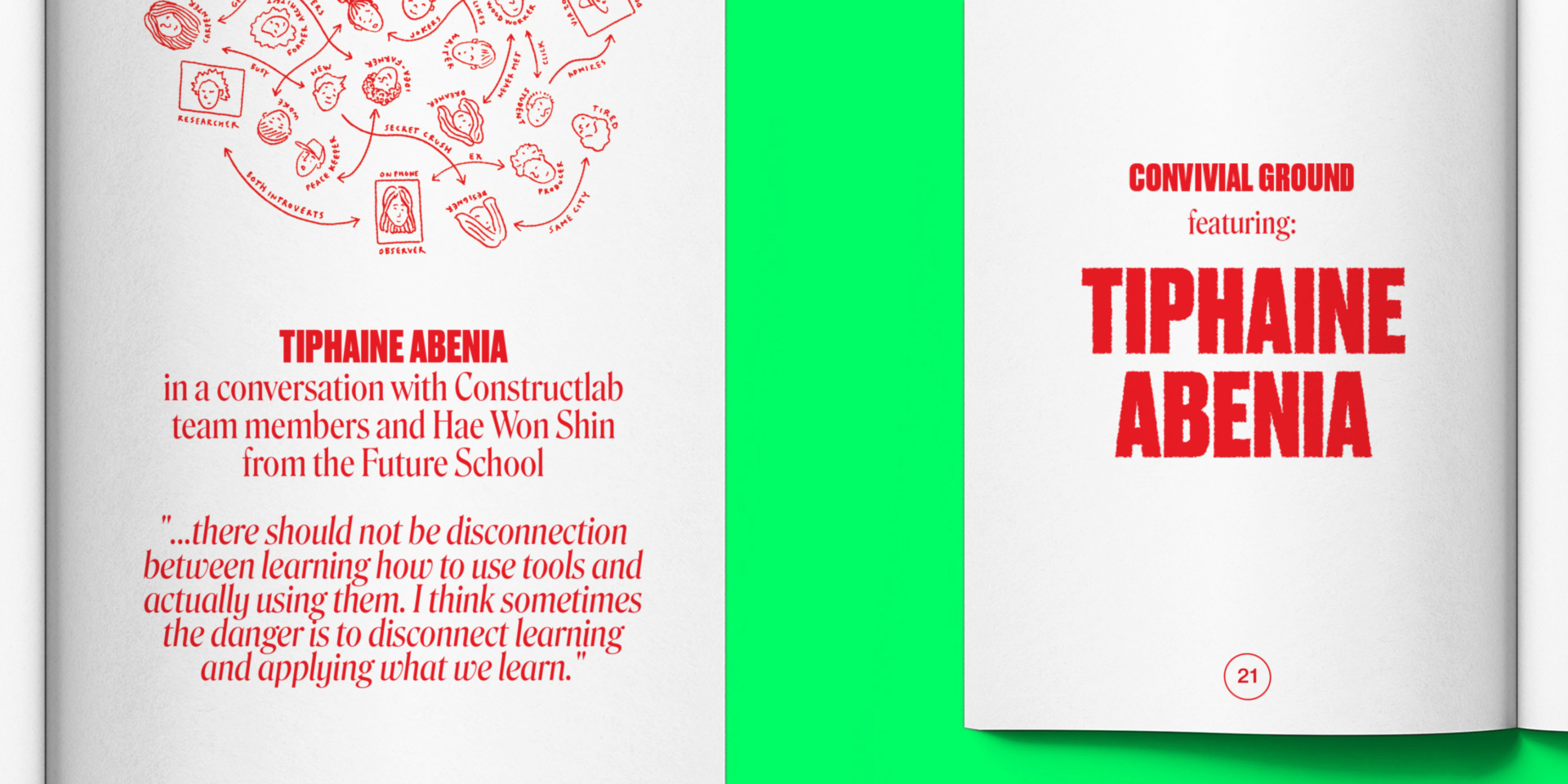 Along the 480 pages, you will read:
3 essays
39 narrative stories
3 convivial conversations (with Thierry Paquot, Tiphaine Abenia + Hae-Won Shin, and Mathilde Sauzet)
More than 100 pages of drawings and images from various project
With contributions by:
Tiphaine Abenia, Sara Belrhaiti, Laetitia Chamekh, Sofia Costa Pinto, Bert de Backer, Johanna Dehio, Mascha Fehse, Noel Fettingsmith, Mathilde Gintz, Julie Guiches, Patrick Hubmann, Jan Korbes, Alex Lambert, Pascal Lazarus, Benoit Lorent, Linus Lutz, David Moritz, Thierry Paquot, Joanne Pouzenc, Carla Rangel, Alexander Römer, Mathilde Sauzet, Hae Won Shin, Merril Sinéus, Angie Volk, Malte von Braun and Peter Zuiderwijk.
Related talks
Related publications